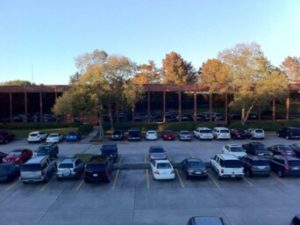 Your parking lot is our priority. After all, it isn't just another function of your property – it's the place visitors see first, where they formulate their first impression.
Our Power Washing Solution
Our parking garage and parking lot cleaning service reflects the importance of your space.
Pressure washing stands at the crux of our service. This allows us to deep clean the surfaces that need it most We use a hot water pressure washing solution for that added level of effectiveness, which:
Removes vehicle stains like tire tracks, grease, oil, and coolant
Removes sticky buildup like chewing gum and spills
Eliminates slick buildup that could otherwise prove to be a slip and fall risk
With our pressure washing service, parking lot cleaning is simple. We build it around your schedule so it doesn't disrupt your business – and we deliver the best quality, straight to your concrete.
Regular Pressure Washing Benefits Your Property
When you give your parking lot or parking garage some love, your entire property benefits. We deliver a solution that will boost your space now and into the future. Outdoor Cleaning Service provides comprehensive results that:
Enhance curb appeal and protect your professional reputation
Reduce the risk of slip-and-fall accidents on your hardscapes
Ensure compliance with health and safety regulations
Protect the long-term quality control of your hardscapes
Outdoor Cleaning Service is your resource for convenient, quality-driven, and complete pressure washing solutions. Get the best for your property – today and into the future!