When you work in the oil industry, it's vital to keep up with with your maintenance due to safety code compliance regulations and laws your company needs to meet. That's why it's important to choose a company you can trust to handle the job correctly from the start. But it also counts to know how to select the ideal company for the job. Here are a few tips for picking the perfect company to provide outdoor cleaning services and maintenance for your oilfield and industrial property.
Choose a Safety-Compliant Oilfield Site Cleaning & Maintenance Service
Safety is important for any industrial company, especially for companies working in the oil industry. The U.S. Department of Labor's Occupational Safety and Health Administration (OSHA) has several rules to ensure organizations in the oil industry are keeping their workers safe, including keeping the floors sanitary and clean to prevent falls. You'll also need to keep machinery in good working condition to keep it functioning properly for your workers' safety. So, it's important to choose a company that focuses on safety and implements high-quality standards to keep your worksite safe, such as Outdoor Cleaning Services. Outdoor Cleaning Services values code compliance and fulfills its goal of bringing better safety to your worksite by providing services such as heavy equipment cleaning and industrial pressure washing to keep your machines operational and floors safe for workers to use.
Focus on Long-term Quality
It's crucial to consider services that focus on long-term quality to extend the life of your equipment. Thus, consider a company that makes long-term quality a priority, such as Outdoor Cleaning Services. For instance, Outdoor Cleaning Services goals to bring industry leadership and stronger quality to your worksite serves as guiding principles to deliver top-notch service. Outdoor Cleaning Services also prioritizes customer satisfaction so you can count on its team of oilfield maintenance experts to thoroughly clean your equipment with longevity in mind. They'll perform detailed cleaning, maintain a regular maintenance schedule and use modern techniques like industrial pressure washing to help you reduce the need for extensive maintenance and to enhance the durability of your machines.
Look for Professionals With Well-Trained Experts
It's crucial to use industrial cleaning services from experts who keep up with industry standards and well-trained. Well-trained oilfield maintenance experts have the experience to help you maintain a professional appearance, comply with safety regulations and offer reliable service to keep your equipment and work site clean on-schedule.
Final Thoughts
Keeping your work site safe and equipment functioning properly is crucial to keeping your business operational. That's why it's important to take advantage of the help of oilfield maintenance experts, such as Outdoor Cleaning Services. By using the help of experts, you can improve the longevity of your equipment and safety of your site for workers.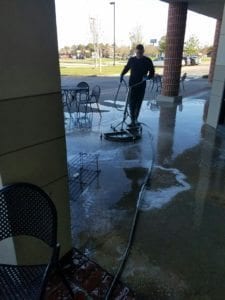 Outdoor fast-food restaurants remain popular meetup points for families and friends. Routine outdoor cleaning will portray the best image of your establishment and keep loyal customers returning for more. A well-maintained fast food restaurant is sure to pass food and environmental spot checks with flying colors and reduce the risks of public complaints. Unfortunately, regular…