Lafayette Building Washing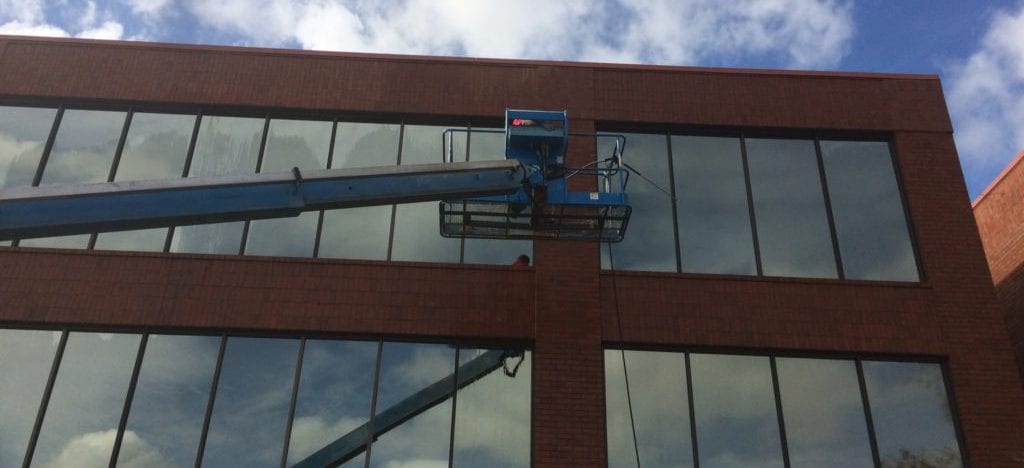 Invest in Your Lafayette Property's Curb Appeal
Make your building exterior a magnet for positive first impressions! With our building pressure washing (Lafayette) services, we'll help you create an exceptional first impression that lasts.
Your building exterior should benefit your business — not turn people away. But you're facing an uphill battle because in Lafayette, our climate can take its toll on properties. And the results can compromise your property's value and curb appeal.
No matter what type of business you're in, first impressions make a difference to clients and customers. And an unkempt building with stains, debris and grimy windows may give the impression that you don't care enough about your company to keep it clean. Even if your building isn't quite an eyesore, built-up dirt can give your exteriors a dank, grubby, off-putting look that can compel customers to go elsewhere with their business.
Our commercial pressure washing (Lafayette) service is specially designed to bring out the best in your building's visual appeal. In fact, for building pressure washing, Lafayette businesses know they can rely on Outdoor Cleaning Service to provide cleaning solutions that transcend expectations. That's because our goal is to always be superlative, by delivering the most effective, top-quality solutions for each and every cleaning project.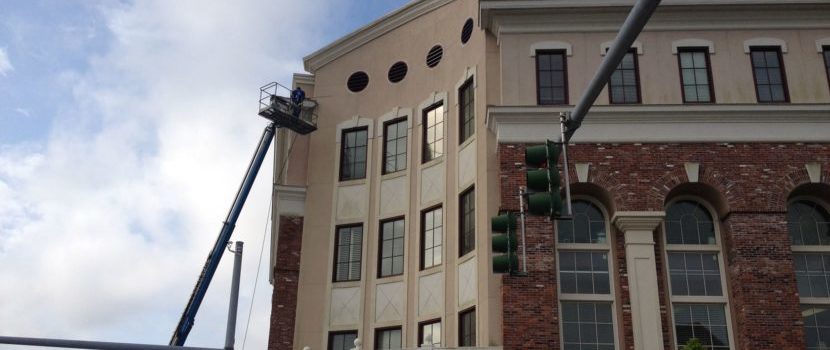 You can expect the best from Outdoor Cleaning Service, including:
Expert, Industrial-Grade Cleaning Services
We specialize in both hot water pressure washing and soft washing, using state-of-the-art equipment, methods and cleaning solutions. Whether you choose our hot water pressure system or our soft washing system, you'll be amazed at how these state-of-the-art cleaning technologies can break down virtually any stain and clean any amount of grime with ease.
Stain Removal
Our team can strip away discoloration and stains from dirt, pollen, pollutants and more to ensure that your exterior sparkles like new.
Mold, Mildew, Algae and Moss Removal
We not only strip away existing organic matter — we also kill the growth to prevent it from coming back.
Comprehensive Cleaning Services
At Outdoor Cleaning Service, we not only clean building exteriors — we also clean windows (with our top-of-the-line pure water-fed pole system), curbs and concrete, parking lots and even indoor electrical equipment. Be sure to ask about our roster of comprehensive cleaning solutions for your business.
24/7 Scheduling to Suit Your Needs
We work according to your schedule. No matter whether it's day or night, our team will be there to accommodate your business.
Environmental Responsibility and Highest Safety Standards
We incorporate wastewater recovery, biodegradable cleaning products and EPA-approved pressure washing techniques into every service. Toward this end, all of our cleaning systems and solutions are completely EPA- compliant and adhere to the highest OSHA standards. This means that everything we do is not only environmentally safe, but also safe for your building and your employees. You can read more below about our commitment to environmental sustainability.
Guaranteed Professionalism
Our professional pressure washing technicians are all accredited, licensed, and insured for your peace of mind.
How Our Cleaning System Can Make Your Business Sparkle
When it comes to building pressure washing, Lafayette businesses know that Outdoor Cleaning Service offers the most comprehensive, top-quality commercial cleaning services you can find anywhere. Here's a look at how we can make your business sparkle.
Hot Pressure Washing
Our state-of-the-art hot pressure washing system uses a powerful combination of extremely hot water and high pressure to remove dirt, dust, debris and stains. Thanks to the high pressure, dirt and grime easily lift off any type of building surface, while the hot water (sometimes going over 300 degrees Fahrenheit) cuts right through the toughest dirt and stains. Hot pressure washing is ideal for a wide variety of surfaces, and we use only the best industrial-grade pressure washing equipment.
Soft Washing
Do you own a historical building that needs extra protection? For many Lafayette businesses, maintaining the structural integrity of their building is paramount — and that includes protecting its exterior surfaces. If your building has a different type of texture or surface that needs extra protection, you'll want to hear about our soft washing process. Originally invented to protect more-fragile surfaces, soft washing uses a much lower pressure point than standard hot pressure washing, and instead relies upon biodegradable chemicals to cut through dirt and grime. These chemicals also act as a disinfectant, so they're ideal for removing bacteria, mold and mildew.
Stain and Moss Removal
Louisiana may be famous for its Spanish moss, but for some buildings, other types of moss are definitely a detriment. We specialize in all types of stain and moss removal, as well as the removal of algae, mold, mildew and bacteria. We use specially formatted, biodegradable disinfectant chemicals that are recognized as the best in the market — and are also safe for the environment.
Our Commitment to the Environment
Outdoor Cleaning Service is dedicated to using only EPA-compliant cleaning methods, cleaning solutions and equipment. This means that our practices, equipment and products are eco-safe and sustainable, not only for the environment but also for your buildings. Plus, all of our pressure washing units are fully equipped with top-of-the-line wastewater recovery systems, allowing them to capture, treat and remove any water used in cleaning.
Outdoor Cleaning Service is also committed to following all industry guidelines, regulations and safety protocols set forth by the Occupational Safety and Health Administration (OSHA). This means that all of our equipment, cleaning methods and practices meet these highest industrial standards. In addition, Outdoor Cleaning Service is fully insured for your protection.
With our experts on the job, your Lafayette building exteriors will sparkle and shine, radiating all the qualities you want to display on your property. When it comes to commercial pressure washing, Lafayette businesses know they can expect the best quality, professional-grade systems and solutions from Outdoor Cleaning Service.
Lafayette buildings, get ready to shine. With our experts on the job, your property is about to become the definition of curb appeal!