Lafayette, LA Pressure Washing
Lafayette Pressure Washing
 You want long-lasting quality. You want results you can count on. And you want a property that reflects all the business values you hold dear.
Outdoor Cleaning Service delivers. Our complete Lafayette pressure washing and exterior cleaning services ensure that your property gets the superior care it deserves.
Your Lafayette Property Specialist
Every property is different. And we don't expect our clients to conform with any mold. That's why we invest in a service menu that meets allyour exterior cleaning needs, so you can pick and choose what your Lafayette exterior requires. We offer:
A Standard for Every Service
Every Lafayette pressure washing service includes a few key components. This doesn't just lock in great curb appeal - it ensures that you're getting quality you can count on to last. Our services integrate:
Wastewater recovery: This isn't just good for your property. It also ensures EPA compliance and environmental responsibility.
Customer service: We care about customer retention. With a full service menu and custom solutions, we ensure that you're getting the quality you need.
Top quality technology: We are prepared to work with Lafayette properties at every level. Whether you're a single location or a franchise, we deliver.
Bring out the best in your Lafayette property, and let Outdoor Cleaning Service do the heavy lifting. Our team is here to serve you and your exterior cleaning needs every step of the way!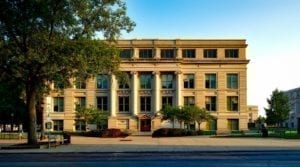 Large building washing is essential if you own and maintain any size of commercial property. But how do you choose a provider when you're in the market for large-scale pressure washing? To effectively and safely pressure wash a large building, you must have the proper equipment and understand the correct techniques. Attempting to do this…