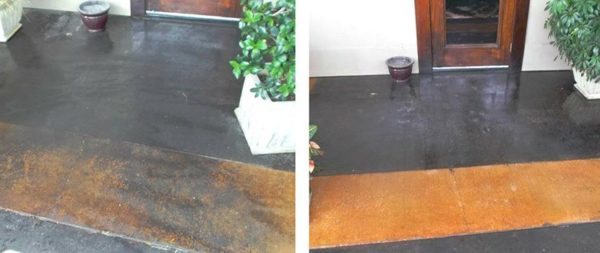 Your hardscapes lay the foundation of your entire property. Professional Concrete Cleaning services make sure that that base is always a great one.
We work with residential and commercial properties of all sizes to deliver custom surface cleaning solutions. From single-family home to sprawling shopping centers, the Outdoor Cleaning Service team specializes in tailored service that makes an impact.
Top Quality and Benefits to Match
When you're scheduling a concrete cleaning service, you should always be able to do so with confidence. Outdoor Cleaning Service is your reliable community source for solutions that go beyond clean hardscapes and concrete.
We provide:
Quality is our priority. With Outdoor Cleaning Service, your dirty concrete isn't a problem-area… It's simply an opportunity for a great solution.
What to Expect from Your Concrete
Our job is to take dirty concrete and make it shine. With a specialized team and an inventory of the best equipment and cleaners, we're proud to deliver a surface cleaning solution that improves:
Our Concrete Cleaning Services
There's no "type" when it comes to our customers – we are proud to serve a broad range of properties throughout Louisiana. From homeowners to small businesses, from HOAs to large corporate headquarters, our team is equipped to handle it all.
Customers know that they can trust us for all of their concrete cleaning needs. Supported by the industry's best technology, a team of specialist technicians, and the best cleaners and degreasers, we're a trusted source for (click each to learn more):
A successful property really does start from the ground. When you choose Outdoor Cleaning Service to revitalize your concrete, you are getting a long-term investment that will continue to advance your home or business.
No matter how large your property, or how dirty your concrete, we have a solution for you. Our team will provide onsite service with a process that will:
We're obsessed with quality. When you pair that commitment to excellence with our honest service, you're getting a guarantee. Concrete cleaning from Outdoor Cleaning Service will always bring the highest caliber of excellence to your hardscapes… From the pillar to the parking lot!
Our Concrete Cleaning Gallery