Building Washing Services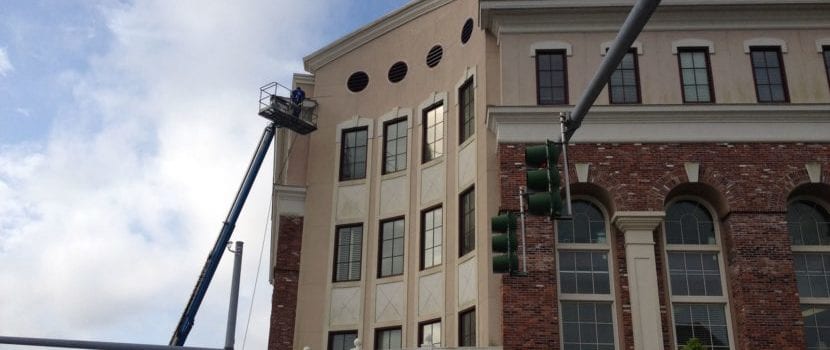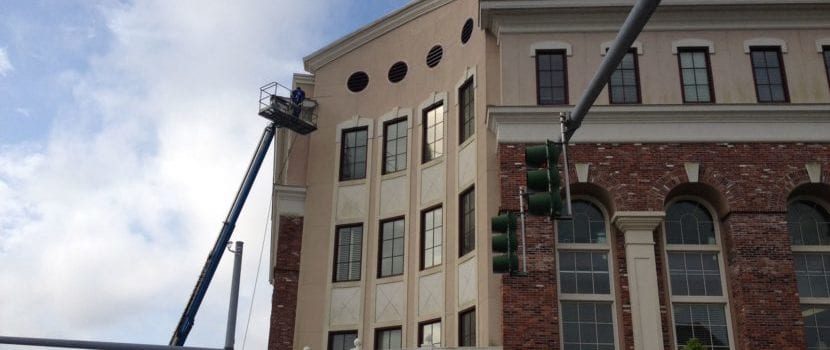 We're the Experts in Building Pressure Washing Services
Every business has a message it wants to convey. And no matter what your industry, that message is essential to your success. At Outdoor Cleaning Service, our building pressure washing solutions can help you achieve that superior first impression you need to attract your clients and customers.
Your building is the central point of your business. With our expert experience, we'll provide professional, industrial-grade cleaning solutions that will transform your exterior into a positive representation of the business you run.
Our team will:
With our restorative building washing service, your exterior will look like new — but we can help you take it a step further with our scheduled cleaning maintenance services. By investing in a regular routine of building pressure washing, you'll show that you take your building and your business — and its role in your community — seriously.
In addition to our building pressure washing services, Outdoor Cleaning Service also provides cleaning services for commercial windows, parking lots, concrete, curbs and even indoor electrical equipment. We're proud to be a comprehensive, one-stop solution for your commercial cleaning needs.
First impressions can create a lasting impact on any business. Outdoor Cleaning Service can give you the opportunity to improve the outward appearance of your business and your brand.
Easy Maintenance and Superior Quality
Operating a business is all-consuming, and you don't have time to take care of cleaning responsibilities — so that's why we're here to help. We provide a comprehensive roster of building washing solutions and other commercial cleaning and maintenance services. From brick to vinyl, stucco to siding — we can restore your building to sparkling freshness with our cleaning systems.
With the Outdoor Cleaning Service team, you'll receive:
Here's How We'll Make Your Business Sparkle
For any business, the exterior of your building is the first thing a potential client sees, and it's going to make an immediate first impression. This first impression could be favorable — or it could be doubtful or even negative, depending on how your building looks. A clean, sparkling exterior looks attractive and professional and will not only appeal to customers but also help build client trust and confidence.
Here's a look at some of our commercial pressure washing services, and how they can help you present your best front to the world.
Hot Water Pressure Washing
As the name implies, pressure washing is a method that utilizes high pressure to propel and spray water for cleaning. For commercial buildings, hot water is used in superior types of commercial pressure washing systems, because it's extremely effective in removing years of dirt, grime, stains and debris.
In a top-of-the-line hot water pressure washing system, the high pressure breaks the bond and effortlessly lifts the dirt from the building's surface. Commercial hot water pressure washers can reach more than 300 degrees Fahrenheit — a temperature hot enough to cut through even the toughest stains and grime.
Soft Washing
Don't be fooled by the name: Soft washing may be gentle on your building's exteriors, but it's still super tough on dirt. Originally created to protect more delicate building materials (such as roofing shingles), soft washing is a low-pressure system that's often used as an effective alternative to pressure washing, especially where high pressure could cause surface damage.
Soft washing uses commercial-grade, biodegradable disinfectant cleaning solutions to remove dirt and grime. Thanks to their disinfectant properties, these chemical solutions can also kill mold, bacteria, algae, fungus, moss and mildew, making them especially effective where these present a problem. Plus, as with our hot water pressure method, our soft washing equipment uses long, telescoping handles to reach upper story areas easily without the need for a lift or cherry picker.
Stain Removal
Regardless of the age of your building, it's a sure bet that it has gained a good many stains over the years. Dirt, grime and debris have a way of embedding themselves in building materials, making them impervious to traditional cleaning methods. Our industrial-grade commercial pressure washing systems, however, can easily lift off decades of dirt and debris from any type of building surface, making your building exteriors clean and sparkling like new.
Safety and the Environment Are Our Top Concerns
At Outdoor Cleaning Service, we're committed to maintaining environmental sustainability, not only in our cleaning methods but also in the equipment and cleaning solutions we use. Because of this commitment, all of our cleaning products are biodegradable and environmentally friendly. Our cleaning products, systems, methods and equipment are all EPA-compliant, making us an environmentally safe choice for your buildings. In addition, our pressure washing units are equipped with a state-of-the-art wastewater recovery system that's specially designed to capture, treat and remove the water used for cleaning.
In much the same way, we're also committed to following the highest standards of safety, as outlined in the industry guidelines established by the Occupational Safety and Health Administration (OSHA). Our state-of-the-art equipment, cleaning solutions, cleaning methods and employee practices meet OSHA's safety regulations, so you can rest assured that everything we do is in accordance with the highest industry standards. To further ensure your peace of mind, Outdoor Cleaning Service is fully insured, so you'll know that you and your company are completely protected.
We're honored to be a one-stop-shop for all your commercial pressure washing needs. At Outdoor Cleaning Service, we'll provide the cleaning — so that you can take care of business.
Our Building Washing Gallery