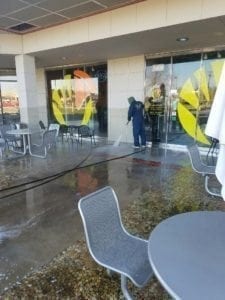 Curb appeal is established from the bottom up… But it can be ruined from the bottom up, too. Stay on top of those eyesores that are hurting the first impression of your concrete. And count on Outdoor Cleaning Service to fight back against them.
Bad Curb Appeal: Top Offenders
A property's parking garage or parking lot isn't 'just another part' of your property. It's essential.
But it also takes a serious beating. When we approach a pressure washing service for these surfaces, we're usually dealing with:
Grease, oil, and other vehicle leaks.

Whether a customer's car is leaking coolant or oil, it makes a mark that only parking lot cleaning will erase.
Chewing gum.

This sticky issue hurts your curb appeal, but can feel impossible to remove. Our pressure washing system is up to the challenge.

Dirt, spilled beverages, and other debris.

Exposure to people, vehicles, and the great outdoors will make its mark. It's our job to remove it.
Our team has worked with concrete surfaces of every size, and we've handled grime at every level. And whether we're pressure washing a parking lot or a driveway, we take pride in banishing that grime for the long haul. Get the best out of your concrete… and the best in curb appeal!