Worksites deserve industrial cleaning solutions that are streamlined and simplified. They deserve service that is quality-driven, and they deserve the expertise of technicians who are well-versed in the practical and regulatory needs of the properties they serve.
We Meet Your Industrial Cleaning Goals
Outdoor Cleaning Service delivers on all of these goals. Our industrial cleaning services provide the complete package, including:
24/7 service
We work on your terms – and on your schedule
EPA and OSHA-compliant cleaning
All of our services comply with regulations outlined by the Environmental Protection Agency and the Occupational Safety and Health Administration
Region-specific solutions
We've proudly served the Gulf States for more than a decade, and know what your work environment needs for success
Ongoing service
Our team will help you determine an ongoing cleaning schedule that fits in with your budget and your worksite needs
We Build Service Around You
For industrial properties, maintaining a maintenance plan isn't just a good idea: It's necessary.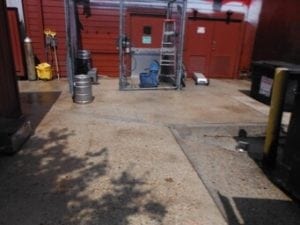 Our team will work with you to home in the facets of your worksite that need specific attention. From here, we will:
Build out a cleaning service that keeps your property compliant, safe, and functional
Deliver service using innovative pressure washing and cleaning technology
Provide on-site recommendations to help you maintain compliance
Implement solutions that get the job done – and don't interrupt your workflow
With Outdoor Cleaning Service, industrial cleaning becomes a simple and straightforward process. Get in touch with our team today to create the right cleaning plan for