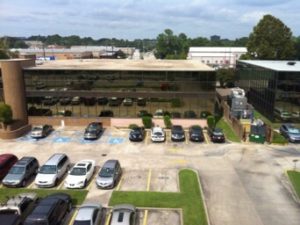 We've all experienced the "before" of a dirty parking lot or parking garage. But have you treated your property to the "after?"
Outdoor Cleaning Service delivers complete pressure washing services that support you, your curb appeal, and your safety. With support from our team, your parking garage is more than a functional necessity. It's a highlight.
Simple Scheduling, Optimal Convenience
Your parking garage is at the crux of what you do. But it's also an important part of your property's curb appeal. Our team balances both needs to ensure that your hardscapes are attractive and safe, functional and welcoming, durable and appealing.
We're proud to bring out the best in your property. But we also appreciate that your parking garage is a critical part of your property, and service time can mean business time lost. That's why we deliver:
24/7 scheduling: Your business has its own operating hours – and it's our job to work around them. We provide service every day and every hour, so you can get the results you need without putting your operations at a standstill.
Service on your schedule: Our team is proud to offer a pressure washing service built around your workflow needs. This means that you get the service you deserve – without it disrupting your operations.
Effective solutions: We invest in the best pressure washing equipment and technology to ensure that your property gets the most superior service. It's our way to bring out the safest and most professional in your property.
Customize Your Parking Lot Cleaning
Every property is different. When you trust the team at Outdoor Cleaning Service for your parking lot cleaning or parking garage cleaning needs, you know you are investing in service you can count on. Expect curb appeal. Expect safety. Expect longevity. Expect quality. Because that's what you will always get from our team of experts.